37 Series 3780
Description
The AR Blue Clean 3780 is the liquid vacuum designed to eliminate stubborn dirt, in both liquid and solid form, from medium-sized surfaces with a maximum area of 60 square metres; it is a complete and powerful vacuum cleaner that has 4 practical functions:
Vacuuming of dust and solid dirt
Vacuuming of liquids
Blower function, designed to clear out even the most difficult to reach corners
Power tool socket for connecting tools such as drills and cutters to the vacuum cleaner. Thanks to its automatic START/STOP, the vacuum cleaner only switches on when the tool is switched on, greatly simplifying the work
Equipped with a 50-litre tank, the AR Blue Clean 3780 can be used to quickly and precisely eliminate the most difficult indoor dirt created in areas such as basements, attics, garages, small work shops or to carefully clean armchairs, sofas and car interiors. High-performance is ensured with a maximum power of 1600 W combined with an air flow of 41 l/s and a vacuum pressure of 19 Kpa. The double filtering system also effectively protects the motor, while the special float switch automatically stops the suction when the tank is full. High performance, but also excellent portability and ease of use thanks to a total weight of 12.7 kilograms, the convenient 2 front castor wheels, the 2 rear wheels, and the kink-resistant suction hose, which lets you reach even the most difficult corners.
Technical properties
Vacuum cleaner with a robust and resistant stainless steel tank, which can perfectly pick up dust, solid dirt and liquids
It has a very useful blower function for clearing hard-to-reach areas or areas that cannot be vacuumed
Double filtering system: high efficiency washable cartridge filter + paper filter which completely protects the motor from fine dust and liquids
Equipped with a power tool socket with automatic start/stop
The drain plug is particularly convenient for emptying liquids without needing to remove the cover
Kink-resistant suction hose
Power supply cable storage hook and built-in accessory holder
Parking position for use during breaks in work
Applications
Balcony
Cellars
Houses
Fluids
Armchairs couchs
Limited spaces
Vehicles
Lofts
Garages
Big volumes
Functions
dry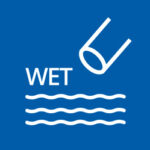 wet
Blow
Performance
TECHNICAL PROPERTIES
| | |
| --- | --- |
| AR CODE | 51929 |
| Max power consumption (W) | 1600 |
| Tank capacity (l) | 50 |
| Accessories diameter (mm) | 40 |
| Inlet air (l/s) | 41 |
| Vacuum pressure (KpA) | 19 |
| Voltage (V) | 220-240 |
| Frequency (Hz) | 50-60 |
| Loudness dB (A) | 73.6 |
| Power tool socket | si |
| Net weight (kg) | 12.7 |
| Unit size (mm) LxWxH | 538x683x852 |
| Gross weight (kg) | 16.8 |
| Packaging size (mm) LxWxH | 625x575x645 |
| Pallet qty | 6 |
| 20 feet container qty | 108 |
| 40 feet container qty | 228 |
| Truck qty | 198 |
STANDARD ACCESSORIES
Browse all the accessories included in the pack and designed to enhance every machine's performance.
EXPLORE THE OPTIONAL ACCESSORIES