36 Series 3670
Description
The AR Blue Clean 3670 is the vacuum cleaner and blower with a 30 litre capacity that is specifically designed to work in small/medium size spaces with a maximum area of 40 square metres. With its stainless steel tank, this particularly tough tool can quickly and accurately vacuum both solid and wet dirt.
It also has a blower function, for clearing dirt out of even the most difficult to reach corners. Some technical details? Air flow of 37 l/s, vacuum pressure of 19 Kpa and maximum power of 1600 W. The AR Blue Clean 36 Series 3670 is the vacuum cleaner for you if you need a machine that can easily eliminate indoor surface dirt from areas such as basements, attics and garages, or bring sofas, armchairs and car interiors back to their old splendour.
Handling and ease of use are qualities that all the products in the range have and the AR Blue Clean 3670 vacuum cleaner is no exception: thanks to the convenient castor wheels, 6.5 kilogram weight and modern design, it takes up very little space and is very easy to use. The drain plug, for easily emptying liquids from the tank, is particularly functional and the high-efficiency washable filter helps better protect the motor.
Applications
Fluids
Armchairs couchs
Vehicles
Lofts
Garages
Balcony
Cellars
Houses
Functions
dry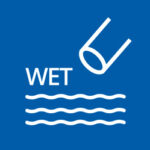 wet
Blow
Performance
TECHNICAL PROPERTIES
| | |
| --- | --- |
| AR CODE | 51927-V |
| Max power consumption (W) | 1600 |
| Tank capacity (l) | 30 |
| Accessories diameter (mm) | 35 |
| Inlet air (l/s) | 37 |
| Vacuum pressure (KpA) | 19 |
| Voltage (V) | 220-240 |
| Frequency (Hz) | 50-60 |
| Loudness dB (A) | 73.6 |
| Net weight (kg) | 6.5 |
| Gross weight (Kg) | 8.4 |
| Packaging size (mm) LxWxH | 410x410x575 |
| Pallet qty | 18 |
| 20 feet container qty | 359 |
| 40 feet container qty | 720 |
| Truck qty | 594 |
STANDARD ACCESSORIES
Browse all the accessories included in the pack and designed to enhance every machine's performance.
EXPLORE THE OPTIONAL ACCESSORIES MR BLUE CLEAN Expert opinion
The AR Blue Clean 3670 vacuum cleaner and blower is also a valuable tool for clogged drains, such as a sink. In this situation the optional Drain Unblocker accessory, the water suction kit, should be used: to free and clear a drain quickly and easily, just connect the instrument to the suction hose and place it over the clogged drain so that it adheres perfectly.