37 Series 3770
Description
The AR Blue Clean 3770 is the liquid vacuum designed to eliminate stubborn dirt, in both liquid and solid form, from medium-sized surfaces with a maximum area of 60 square metres. Marked with the Blue Clean Factor, the symbol we use to distinguish the best products due to their cleaning power, technical performance and ease of use, the AR Blue Clean 3770 is a complete and powerful vacuum cleaner that has 4 practical functions:
Vacuuming of dust and solid dirt
Vacuuming of liquids
Blower function, designed to clear out even the most difficult to reach corners
Power tool socket for connecting tools such as drills and cutters to the vacuum cleaner. Thanks to its automatic START/STOP, the vacuum cleaner only switches on when the tool is switched on, greatly simplifying the work
Equipped with a 35-litre tank, the AR Blue Clean 3770 can be used to quickly and precisely eliminate the most difficult indoor dirt created in areas such as basements, attics, garages, small work shops or to carefully clean armchairs, sofas and car interiors. Or – why not? – to clean the dog's bed. High-performance is ensured with a maximum power of 1600 W combined with an air flow of 39 l/s and a vacuum pressure of 19 Kpa. The double filtering system also effectively protects the motor, while the special float switch automatically stops the suction when the tank is full. High performance, but also excellent portability and ease of use thanks to a total weight of 10.3 kilograms, the convenient 4 castor wheels and the kink-resistant suction hose, which lets you reach even the most difficult corners.
Applications
Garages
Balcony
Cellars
Houses
Fluids
Armchairs couchs
Vehicles
Lofts
Functions
dry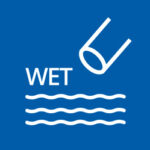 wet
Blow
Performance
TECHNICAL PROPERTIES
| | |
| --- | --- |
| AR CODE | 51928-V |
| Max power consumption (W) | 1600 |
| Tank capacity (l) | 35 |
| Accessories diameter (mm) | 35 |
| Inlet air (l/s) | 39 |
| Vacuum pressure (KpA) | 19 |
| Voltage (V) | 220-240 |
| Frequency (Hz) | 50-60 |
| Loudness dB (A) | 73.6 |
| Power tool socket | si |
| Net weight (kg) | 10.3 |
| Unit size (mm) LxWxH | 465x444x560 |
| Gross weight (kg) | 11.7 |
| Packaging size (mm) LxWxH | 495x460x570 |
| Pallet qty | 6 |
| 20 feet container qty | 239 |
| 40 feet container qty | 488 |
| Truck qty | 198 |
STANDARD ACCESSORIES
Browse all the accessories included in the pack and designed to enhance every machine's performance.
EXPLORE THE OPTIONAL ACCESSORIES MR BLUE CLEAN Expert opinion
With the power tool socket, the AR Blue Clean 3770 liquid vacuum is the perfect tool for quickly and easily performing minor home repairs or maintenance tasks. When using a drill, for example, the optional Drilldust Collector accessory can be installed, which is ideal for conveniently drilling walls and ceilings without creating dust.