42 Series 4200P
Description
42 Series 4200P is the compact professional vacuum cleaner able to provide perfect removal of large amounts of solid, coarse and liquid dirt. It is a particularly ideal aid for artisans, including for joiners and plumbers and in car repair and body workshops and butchers' shops. With power of 1200W, a vacuum of 23.5 KpA and air suction of 59.7 l/s, it removes the toughest dirt easily and at high speed.
The tank has capacity of 36 litres and is in rugged, hard-wearing polypropylene. The quick connection/release hinges facilitate lid removal and thus tank emptying. When sucking in liquids, the float switch in the motor compartment indicates when the maximum level of liquid has been taken in and the tank therefore has to be emptied.
The 42 Series 4200P has a very efficient dual filter system comprising: a sponge filter, which must always be used when sucking in liquids and which protects the motor from water and splashes; and a polyester cone filter for use when sucking in solid dirt, which protects the motor from fine particles. Solid dirt is deposited on the bottom of the tank, which must be emptied when full to capacity. Both filters are washable and can be reused once they are perfectly dry.
This professional vacuum cleaner contains a two-stage motor that sucks in and expels air in two different phases, generating a stronger vacuum which means even more powerful suction, necessary to shift the most stubborn dirt.
With its 4 castor wheels, the 4200P compact professional vacuum cleaner is agile and easy to move around even when the tank is full of solid or liquid dirt, making the user's job easier.
Supplied complete with:
Brush body, fitted with the insert for solids or the one for liquids with silicone bristles, depending on the dirt to be removed;
Round brush with bristles suitable for the most delicate surfaces and for upholstery. It is ideal for cleaning worktops and the insides of cars (boots, seats, mats);
Crevice nozzle for getting into the most difficult corners;
Flexible, kink-resistant suction hose5 m long with end fittings for quick connection to the vacuum cleaner and nozzles;
Curved steel tube (diameter 40 mm) and straight steel tube (diameter 36 mm) for reaching even the tightest corners and most distant points and sucking in even coarse dirt, broken glass and crockery, gravel and rubber or plastic scraps.
Applications
Crafts
Functions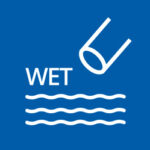 wet
dry
Performance
TECHNICAL PROPERTIES
| | |
| --- | --- |
| AR CODE | 51061 |
| Max power consumption (W) | 1400 |
| Tank capacity (l) | 36 |
| Accessories diameter (mm) | 40 |
| Inlet air (l/s) | 59.7 |
| Vacuum pressure (KpA) | 23.5 |
| Voltage (V) | 230 |
| Frequency (Hz) | 50 |
| Loudness dB (A) | 60 |
| Engine n° | 1 |
| Engine stages | 2 |
| Power tool socket | no |
| Net weight (kg) | 12.6 |
| Unit size (mm) LxWxH | 415x415x875 |
| Gross weight (Kg) | |
| Packaging size (mm) LxWxH | 415x415x580 |
| Pallet qty | 15 |
| 20 feet container qty | 168 |
| 40 feet container qty | 336 |
| Truck qty | 495 |
STANDARD ACCESSORIES
Browse all the accessories included in the pack and designed to enhance every machine's performance.
EXPLORE THE OPTIONAL ACCESSORIES