M20
Description
M20 is the wet, dry and ash vacuum cleaner designed to deal with stubborn dirt; it is the ideal option if you need a device to cover a variety of needs effectively.
Practical, efficient and versatile, M20 is both a normal and an ash vacuum cleaner in one.
These are its 4 functions:
Dry vacuum cleaner
Wet vacuum cleaner
Ash vacuum cleaner
Blower function
This multifunction vacuum cleaner can handle anything.
You can use it not only for cleaning inside the home, on the balcony and in the cellar, but also for spring cleaning your dog's kennel, the upholstery of your car or the sofa in the lounge.
What's more, like the other AR Blue Clean vacuum cleaners, M20 can remove both solid and liquid dirt, so cleaning becomes child's play.
And it can also operate as an ash vacuum cleaner, to clear ash from stoves, fireplaces and barbecues.
The blower function allows dirt to be removed from the most inaccessible corners.
Air flow of 28 l/s, vacuum of 17 Kpa and maximum power of 1200 W, combined with the high-efficiency washable filter, make M20 a powerful, effective, wet, dry and ash vacuum cleaner.
The tank, with a capacity of 20 litres, is in stainless steel and stands on four sturdy castor wheels.
Other convenient features include the built-in accessories holder, the power cord hook and the quick connection and release hinges for easy washing of the filter and tank. The float switch is also extremely useful, cutting out suction when the tank is full.
4 in 1 multifunction vacuum cleaner for removing dust, liquids and ash, complete with handy blower function
With stainless steel tank and high-efficiency washable filter
The wheels and the handle on top ensure easy transportation, while the quick connection and release hinges allow easy cleaning of the filter and tank
The float switch cuts out suction as soon as the tank is full
Applications
Campers
Lofts
Garages
Fireplaces
Balcony
Grills
Cellars
Heaters
Houses
Little work sites
Fluids
Armchairs couchs
Limited spaces
Vehicles
Dog house
Functions
dry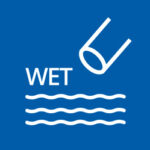 wet
Ash
Blow
Performance
TECHNICAL PROPERTIES
| | |
| --- | --- |
| AR CODE | 52013 |
| Max power consumption (W) | 1200 |
| Tank capacity (l) | 20 |
| Accessories diameter (mm) | 35 |
| Inlet air (l/s) | 28 |
| Vacuum pressure (KpA) | 17 |
| Voltage (V) | 220-240 |
| Frequency (Hz) | 50-60 |
| Loudness dB (A) | 73.6 |
| Power tool socket | no |
| Net weight (kg) | 7.2 |
| Unit size (mm) LxWxH | 415X415X473 |
| Gross weight (kg) | 8.9 |
| Packaging size (mm) LxWxH | 410X410X485 |
| Pallet qty | 24 |
| 20 feet container qty | 339 |
| 40 feet container qty | 688 |
| Truck qty | 792 |
STANDARD ACCESSORIES
Browse all the accessories included in the pack and designed to enhance every machine's performance.
EXPLORE THE OPTIONAL ACCESSORIES MR BLUE CLEAN Expert opinion
To use the blower function provided on the M20 wet, dry and ash vacuum cleaner, simply connect the suction hose to the special connection provided. You can use this option to drive all the dirt, such as leaves or other debris, into a corner, or to remove dirt from the most hidden, inaccessible nooks and crannies. Whatever you need to do, this feature is essential for truly impeccable cleaning!